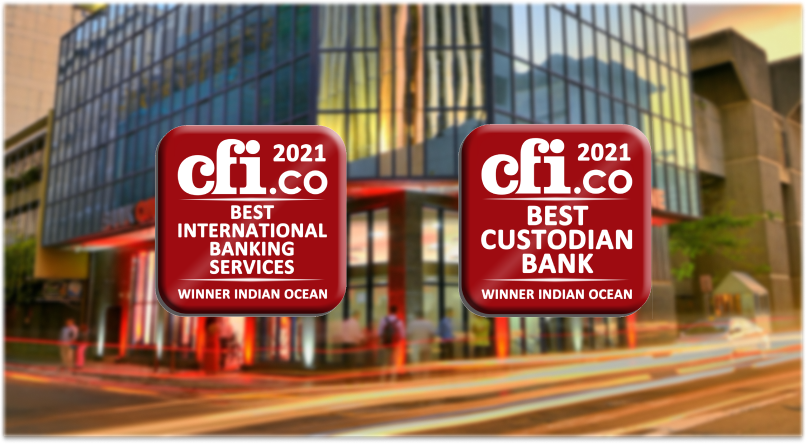 Bank One scores a double win for "Best International Banking Services" and "Best Custodian Bank"
August 6, 2021
Bank One is pleased to announce that it has been awarded for "Best International Banking Services" and "Best Custodian Bank" in the Indian Ocean by the renowned London-based financial publication, Capital Finance International (CFI.co). CFI.co seeks, ever year, to recognize "individuals and organizations that contribute significantly to the convergence of economies and truly add value for all stakeholders".
Bank One, which has recently announced its long-term strategic focus in Sub-Saharan Africa (SSA), was highly praised by the judges, who highlighted that the Bank plays an active role in supporting businesses in SSA based on its unique onshore and offshore capabilities. Indeed, the Bank proudly belongs to a 'Star Alliance of Banks' with a unique value proposition to serve the needs of SSA-focused clients through world-class personalized services and tailor-made solutions.
Carl Chirwa, Head of International Banking, says: "We are a second time winner of the prestigious awards programme of CFI.co and this recognition bears testament to our proven track record and real insights into continental Africa. With the coming in force of the AfCFTA agreement, I believe that it is the ideal time for Africa-focused banks (such as Bank One) to seize the numerous opportunities ahead. At Bank One, we are gearing up to deepen our activities in SSA. Our ultimate goal is to become the "Bank of Choice' for financial institutions in SSA".
Guillaume Passebecq, Head of Private Banking & Wealth Management, adds: "Bank One has customer satisfaction as one of its core tenets. We are constantly paying particular attention to the expectations of our Institutional and HNW customers. Among other things, we have introduced real-time digital access and a strong international custody services offer. Moreover, the current period of financial stress has brought forward the resilience of our Open Architecture model, as a multi-management investment solution can be an efficient way of reducing performance volatility. We will continue to develop our offer in the SSA region and leverage on the strong presence of our shareholders, the CIEL Group and I&M Group PLC, in Africa."
About Bank One Limited:
Bank One is a joint venture between CIEL Finance Limited in Mauritius and Kenya-based I&M Group PLC. Over the last decade, it has built a client base of over 50,000, a dedicated team of over 421 experienced collaborators and an asset base exceeding MUR 57 billion. Bank One provides a wide range of banking products and services to its clients through a geographic footprint spread across the island of Mauritius, comprising of 7 branches and a well-distributed ATM network. It also plays an active role in supporting businesses in Sub-Saharan Africa. Bank One has deep development finance institution relationships and long-term funding lines in place with the German Investment Corporation (DEG), the International Finance Corporation (IFC) and the French Development Agency (Proparco). Bank One has been rated A+ by CARE Ratings (Africa).
For further information:
Ali Mamode, Head of Marketing & Communications
Tel: +230 202 9247, +230 5713 5924
Email: ali.mamode@bankone.mu
Virginie Couronne, Communications Specialist
Tel: +230 202 9512, +230 5258 2926
Email: Virginie.appapoulay@bankone.mu