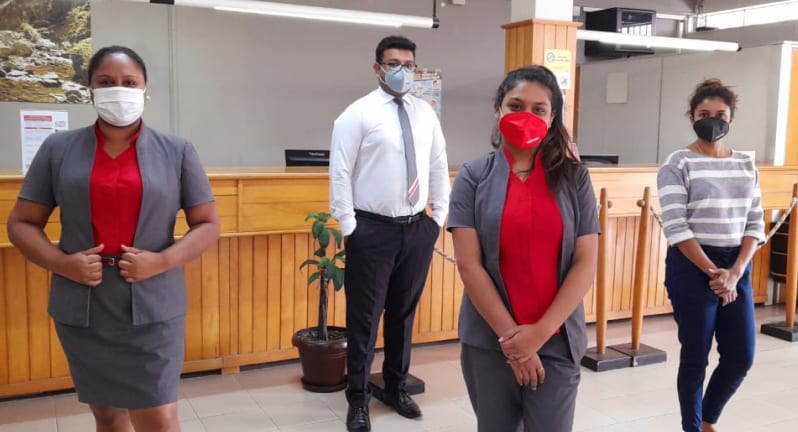 Bank One Frontline Heroes: Reflections on working in a "red zone"
April 23, 2021
When the first lockdown came into force in Mauritius in 2020, employees across a vast array of industries have had to work under very different circumstances – with remote working becoming the "new normal" for many. Despite the numerous challenges and health risks, front-liners continue to do their jobs and play an important role in keeping their activities (and the world around us) into motion.
More than one year into the crisis, they are still in the thick of the battle against Covid-19, but this time, several front-liners are stepping out of the comfort of their homes to work in regions which have been labelled as "red zones", that is, areas where positive cases to Covid-19 grow by the day as compared to other regions.
At Bank One, necessary actions were immediately taken to reopen our branch located in Vacoas, a "red zone", in order to avoid any disruption in banking services and access to cash for customers located in this region. In their own words, our colleagues describe their current work experience during the pandemic, as essential frontline officers, working Monday to Saturday to serve customers in the best possible ways whilst "working together as ONE team".
"Vacoas was indeed one of the first regions to be categorised as a "red zone" and during the first days, it was like a ghost town! We had never seen it this way before as Vacoas has always been bustling with activity any day of the week. Our customers mostly visit the branch in the morning and we have noticed that there are fewer walk-in customers since the region was categorised as a "red zone".
From the beginning of the pandemic, we have been encouraging our customers to use digital channels, such as Internet Banking and Mobile Banking. We have seen an increase in online transactions and customers only come to the branch for services such as deposits and withdrawals."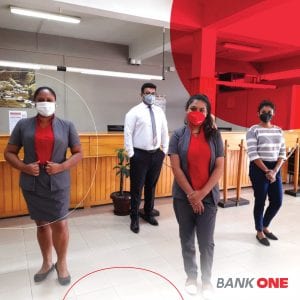 "Coming to work every day is a challenge. Our job in itself has changed – today we are more focused on delivering minimum banking services to our customers rather than meeting sales targets. We understand that the needs of our customers have changed and we have adapted our services to their expectations. We also do our best to keep ourselves motivated each day. For example, we created a group on WhatsApp to keep everyone at the branch informed about the latest updates.
Though we are a small team, we make sure that everyone adheres to the health and safety measures whenever we have team meetings on site or assist a walk-in customer. Our biggest fear is to carry the virus with us home if ever we are infected because as front-liners were are constantly at risk."
"We all live in the vicinity, so when we were called upon to work in the "red zone", we quickly made the necessary arrangements to ensure we were back to working on premises immediately. Most of us do not have children but live with other relatives. So, we only come to work and go back home and avoid other public places such as supermarkets. We are very fortunate that our relatives help out with the grocery shopping. When the lockdown was announced in March, restaurants, food courts and snacks were closed.
When we resumed work, we started packing our own meals and I think that most of us like this new routine and will keep bringing our homemade meals from now on. Our routine has also changed in the sense that most of us now commute by car whereas before the pandemic we mostly used public transportation."
Our staff at the frontline who are working hard during the lockdown hold a special place in our hearts and we admire them dearly for their courage!