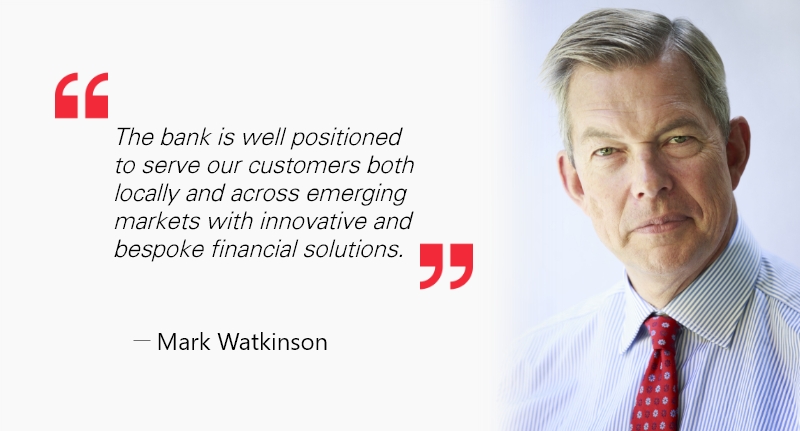 Mark Watkinson CEO and Executive Director as from 01 April 2020
February 27, 2020
Bank One appoints Mark Watkinson as CEO and Executive Director from 1st April 2020
(Port Louis, Mauritius) – 24 February 2020 – We are pleased to announce the appointment of Mark Watkinson as Chief Executive Officer and Executive Director of Bank One Limited effective 1st April 2020, subject to regulatory approvals. He will succeed Ravneet Chowdhury who will be leaving the Bank at the end of his contract on 31st March 2020 to pursue other career opportunities.
Bank One Chairperson, Sandra Martyres, said: "I am delighted that Mark Watkinson is joining us as our new CEO. He comes with extensive banking experience and a track record of success from his previous roles at HSBC across 10 countries in North America, Europe, Asia and the Middle East. I am confident that he will take the Bank to new heights in the years ahead."
"The Board of Directors would also like to place on record its appreciation for the excellent job done by Ravneet Chowdhury in helping to build a stronger and more visible bank, focused on offering innovative products and delivering customer satisfaction. Thanks to his efforts, Bank One is recognised as a serious player in the market today and is on the right path towards realising its vision of strengthening its position in Mauritius, with ambitions to expand into Africa and other regions. On behalf of the Board of Directors and myself, I would like to thank Ravneet for his strong commitment and valuable contribution to the substantive improvements made over the last six years. We wish him all the best in his future endeavours."
Mark Watkinson joins us as of today, Monday 24th February 2020, to ensure a seamless transition and a smooth takeover from Ravneet Chowdhury.
"I would like to stress that the change in leadership will not affect the cornerstones of the Bank's strategy, which have been successfully put in place over the last few years. We will remain focused on investing in our people and our customer-driven strategy to deliver superior growth for the benefit of all our stakeholders." added Sandra Martyres, Chairperson of Bank One.
Mark Watkinson stated:
"I am very excited to be joining Bank One as the new CEO. The Bank has transformed itself in the past few years into a dynamic organisation with solid foundations. It is well positioned to serve our customers both locally and across emerging markets with innovative and bespoke financial solutions. I look forward to working with our teams, customers and partners to tap further opportunities both in Mauritius and abroad."