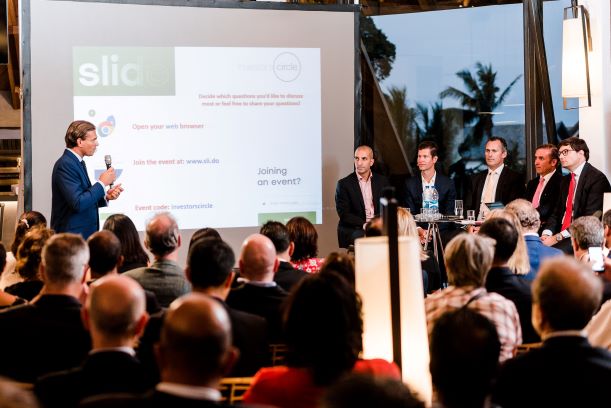 A successful third edition for Bank One's Investor's Circle
November 29, 2019
This Wednesday, October 30, was held the third edition of Investor's Circle organized by Bank One at the Clubhouse Restaurant at Mon Choisi Le Golf.
The bi-annual event offers private investors, institutions, asset managers and financial service providers a unique platform for networking, sharing ideas and doing business.
Guillaume Passebecq, Head of Private Banking & Wealth Management spoke of the origins of the Investor's Circle. Given Bank One's chosen open architecture approach to investments, we come to work with a wide range of external managers. The idea behind organizing the Investor's Circle was to offer a platform where these third-party managers would be able to discuss topics related to asset management. From the very first edition, we saw keen interest from the community.
For the third edition, we welcomed a very enthusiastic audience and the following asset managers:
Didier Margetyal, Tailor Capital Paris, Bond Fund Manager
Alexandre Gulino, Weisshorn Asset Management Switzerland, Asset Manager & Director
Stéphane Henry – Mauritius IPRO, Group CEO / Lead Portfolio Manager
Frédéric Taisne, Bridport & Co Switzerland, Head of Sales
Javier Tomé, Fimarge, Fund Manager
Gille Rollet, Staer Mauritius, CEO
Samioullah Golamgouss, Providentia Mauritius, CIO
For this third edition, we gave the floor to the attendees and responded exclusively to their interrogations on investment solutions and market developments in Mauritius and beyond. Guests, private clients and financial professionals, were then invited for a wine tasting session to conclude the evening on an informal note.