Bonds, Loans & Sukuk Africa Conference
Cape Town International Conference Centre -
THE CONTINENT'S ONLY PAN-AFRICAN DEBT EVENT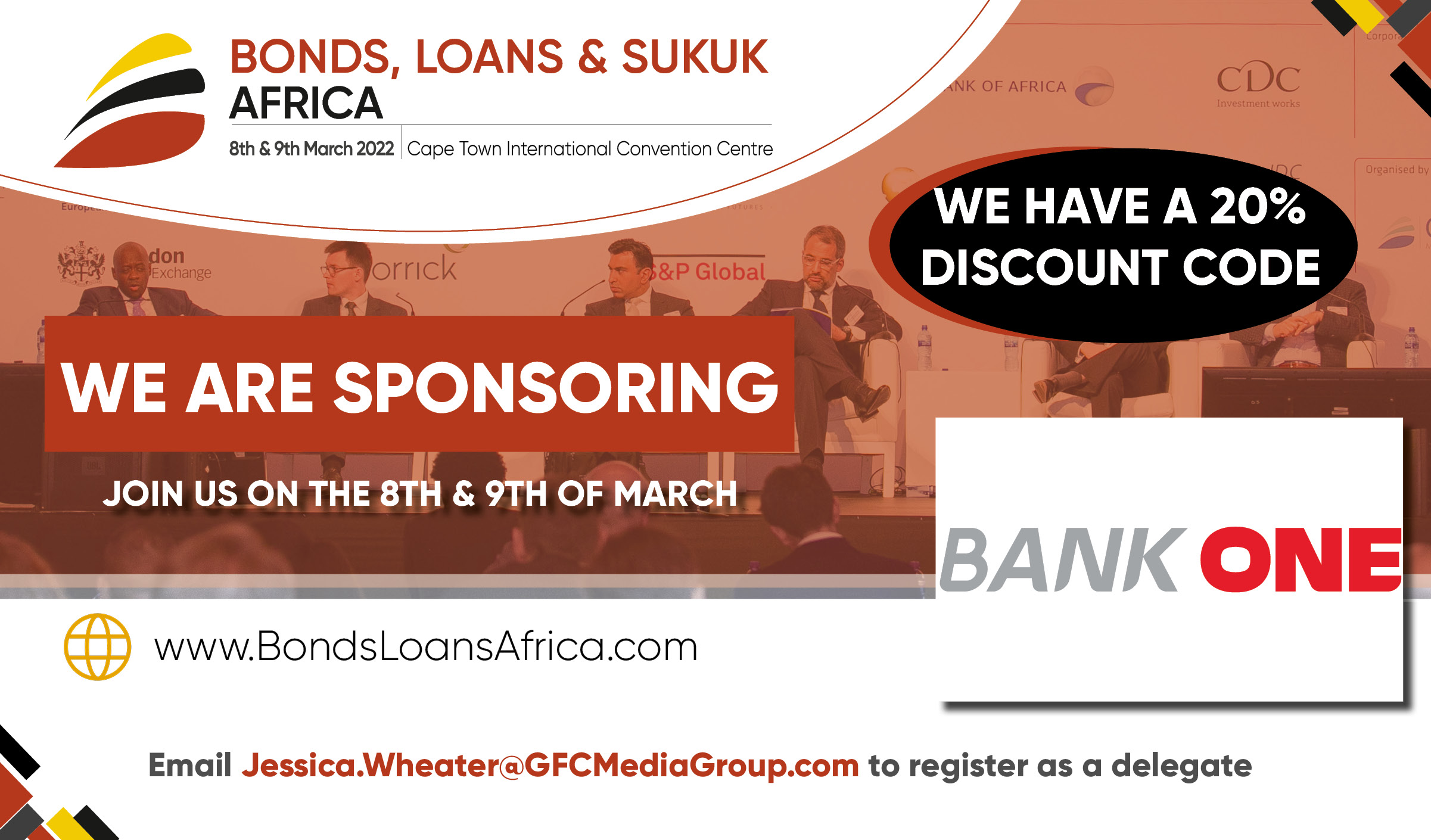 Date: 8th & 9th March 2022
Venue: Cape Town International Conference Centre
Website: www.BondsLoansAfrica.com
We are proud to announce that Bank One are a Silver Sponsor at the continent's only pan-african debt event.
84% DIRECTOR LEVEL OR ABOVE | 60+ INDUSTRY EXPERT SPEAKERS | 72% OF ALL AFRICAN ISSUERS ATTENDED IN 2019 | 48% PUBLIC & PRIVATE ISSUERS & BORROWERS
Bonds, Loans & Sukuk Africa will be the first in-person industry gathering of the African financial markets hosted on the continent since the onset of COVID-19 and remains the continent's only pan-African debt event. It is the only event to combine discussions across the region's bonds, loans and sukuk markets, making it a "must attend" for the continent's leading CEOs, CFOs and Treasurers.
The ESG & Capital Markets Africa feature on day 2 will enable attendees to gain practical solutions to move their business forward in a more sustainable direction. The African market recognises the need to better understand ESG principles, conduct cost/benefit analysis for green-priced products and incorporate sustainable thinking into governance and long-term business strategy.
64% of the audience will comprise private and sovereign borrowers and issuers, as well as investors, and 36% of the audience will comprise international banks, DFIs, law firms and rating agencies; making Bonds, Loans & Sukuk Africa the ideal platform to engage in real business deals and discuss the latest developments in the African structured finance space, debt markets and ESG criteria.
HEAR FROM BANK ONE 'S EXPERT SPEAKER:
·        Carl Chirwa, Head of International Banking, Bank One
·        Panel: Balancing economic growth with fiscal responsibility: African sovereign debt outlook 2021/2022
Download the official event brochure here to view the latest agenda, speakers and companies that participate.
As a Silver Sponsor, we have managed to secure a 20% discount for our contacts.
To register as a delegate and take advantage of our discount please register online here or contact Jessica Wheater on [email protected] and quote our unique code: BANKONE20
For more information about the event, please contact Jessica Wheater.
EVENT DETAIL INFORMATION
Venue
Cape Town International Conference Centre