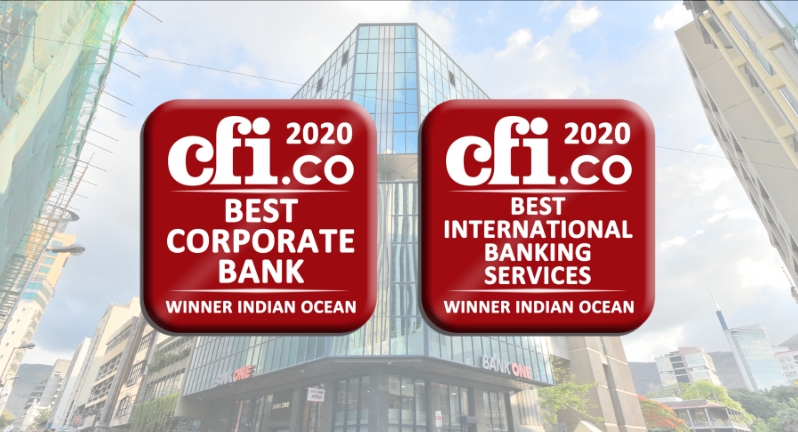 Bank One a double award winner of the CFI.co international awards
June 15, 2020
Port-Louis, 15 June 2020. Bank One has been awarded the titles of Best Corporate Bank 2020 (Indian Ocean) and Best International Banking Services 2020 (Indian Ocean) by the prestigious publication, Capital Finance International (CFI.co). Nominated in both categories, the bank distinguished itself by its high value-added services, its approach focused on the needs of local and international clients, and by its tenacity in the face of the challenges to the banking sector.
"These two awards are a perfect reflection of the work accomplished by our teams. Today, as we are witnessing major changes in all sectors of activity related to the COVID-19 crisis, we are proud to have a solid foundation to accompany and support our clients in these difficult times," says Mark Watkinson, CEO of Bank One.
During the financial year, International Banking incorporated new products and expanded its services into new geographies to meet the demands of a growing and dynamic market. According to Carl Chirwa, Head of International Banking, "We are delighted to be awarded this prestigious honour by CFI.co as it speaks to our strategy over the last couple of years in developing a robust Trade Services proposition targeted at top tier Sub-Saharan Africa Financial Institutions. We see a niche opportunity to support this underserved segment by creating sustainable value and long lasting relationships with commercial banks across the continent. Our International Banking strategy also aims to leverage Bank One's geographic location in Mauritius, which remains Sub-Saharan Africa's preferred International Financial Center as well as being the last investment grade rated country in the region, to attract Foreign Direct Investment and Trade Flows to the sub-continent".
Regarding the Corporate Banking segment and its tailored offerings for local businesses, Fareed Soobadar, Head of Corporate Banking, explains, "Corporate banking has over the years developed for itself a reputation of proximity with its clients, based on trust and a relationship of partnering for business development. This has proved very successful owing to the hard work and efforts of its dedicated relationship teams and their commitment to ever deliver the best services to an increasingly demanding and sophisticated client base. The need to be at the forefront of technological changes and speed of delivery remain key factors that will continue to drive this successful approach, as the bank progresses on its journey of digital innovation to better serve our clients' local and international needs."
Bank One, which celebrates its 12 years of existence this year and ranked among the Top 10 banks in Mauritius according to the Top 100 Companies of Mauritius 2019, was awarded for Best Corporate Bank (Indian Ocean) in 2018 by CFI.co. It was then praised for its efforts to gain market share and position itself as a key player in the financial services sector in the region.
For more information:
Ali Mamode, Head of Marketing & Communications
Tel: +230 202 9247, +230 5713 5924
Email: ali.mamode@bankone.mu
Virginie Couronne, Communications Specialist
Tel: +230 202 9512, +230 5258 2926