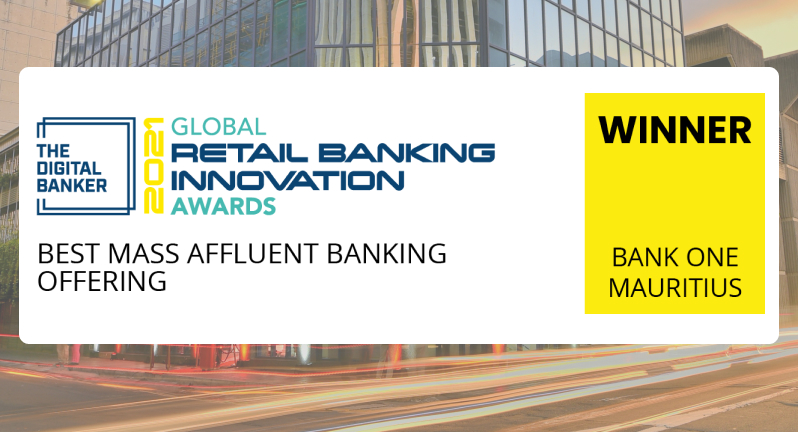 Bank One Elite Banking awarded "Best Mass Affluent Banking Offering" for her cross-border services
December 3, 2021
Bank One announced today that it won the Best Mass Affluent Banking Offering award in the Service Innovations category at the Global Retail Banking Innovation Awards 2021 (GRB21) organised by the Digital Banker. Every year, The Digital Banker celebrates "the world's most cutting-edge retail banks that are pioneering unrivalled standards and capabilities and are transforming the industry by setting new milestones in service delivery, digital innovation, product development, payments, technology, and customer experience among others".
The "Best Mass Affluent Banking Offering" title recognises the efforts of Bank One in serving mass affluent customers, a fast-growing segment, which is underserved when it comes to cross-border banking needs. Bank One, through its Elite Offshore Unit, has designed an innovative cross-border banking value proposition dedicated to mass affluent customers across sub-Saharan Africa – a segment that Bank One is ideally placed to serve through the combined footprint of its two shareholders, Mauritian conglomerate CIEL Ltd and Kenya-based I&M Group PLC.
"We are tremendously honoured to receive this award. There is a thriving sector in Mauritius that provides cross-border banking solutions to high net worth individuals, but there is a significant gap when it comes to mass affluent customers. Our unique offer, which seeks to create a compelling proposition for these customers, solves this gap. We believe that mass affluent customers also deserve wealth management services, access to international markets and an efficient way to manage their finances especially when they live and work in different countries, have families living overseas or have financial interests that span geographies" says Bhavya Shah, Head of Personal Financial Services.
As major global banks pursue their de-risking strategies and exit the African market, there is a clear white space and an opportunity for Bank One to step in. Mauritius is also well-known as an excellent jurisdiction for cross-border banking services, risk mitigation and investment diversification opportunities. At Bank One, we already have a comprehensive suite of solutions, capabilities and skills required to serve the rising needs of mass affluent customers in sub-Saharan Africa.